Page 1 of 2
Happy Hour 17 Dec 2015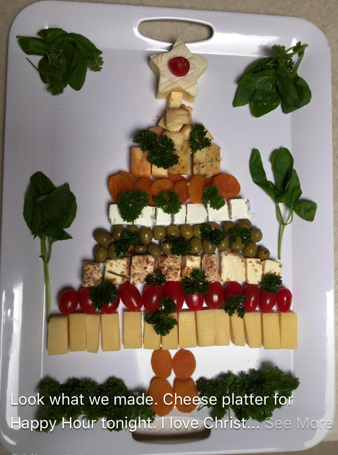 Jo and Mike really got into the Christmas spirit with this platter at the Happy Hour held at Margaret and Rod' place - another fabulous Christmas get together"
Christmas Lunch 2015 at Waverley Golf Club
What a great way to celebrate Christmas for Pinewood Probians, with 89 out of 100 members attending. After a shorter than normal monthly meeting we all migrated to Waverley golf Club for a very enjoyable three course lunch. Anna Burke the Federal member for Bruce, and one of our sponsors joined us, and we had fun deciphering the Christmas carol riddle page. The 2 winning tables were disappointed there was no prize, but we had a lot of fun and it was good to see the competitive spirit is still there - at least for many of us. Santa and her naughty elf were there to greet us, and many others added to the festive spirit with their Christmas outfits.
Day Trip to Williamstown via Port Melbourne and the Spirit of Tasmania 25th Nov 2015
The bus trip was a great success, stopping at the waterfront at Princes Pier for morning coffee, and a tour of the Tasmanian Ferry, the Spirit of Tasmania. Then it was off to Williamstown and the RSL for lunch. A local guide then took us on a guided tour of Williamstown to see the historical stuff. A great day out.
Craft Group, Christmas Lunch Dec 2015.The final craft group session for the year also included lunch, and doesn't it look great.
Oaks Day Lunch, Nov 2015 at Zest Restaurant, Homesglen TAFE. Hats look wonderful.
Coombe Cottage, Oct 2015.
Meeting in Bundaberg
You never know who you will bump into when you are a Grey Nomad as these happy members discovered when they stopped for a tasting at the Bundaberg Rum Bar in Bundaberg recently.
Scotchmans Creek Walk, July 2015
Frenchies Dinner May 2015
The Fifth Friday Fine Dining Group met for the second time this year at Frenchy's Bistro in Glen Waverley on May 29th. The classical French cuisine created a scrumptious feast, and judging by the amount of laughter and hilarity throughout the evening it can be said that we all had a fabulous time.
Canterbury Gardens Walk May 2015
Springvale Botanical Gardens Walk - April 2015
BBQ at Enza's March 2015
Melbourne Tramboat Cruise - March 2015
Walk in Wilson Botanic Park - March 2015. Walk followed by lovely picnic lunch.
Paella & Flamenco Dancers Lunch at Brandy Creek Winery Feb 2015
Members enjoyed the taste sensations of Brandy Creek Wines and traditional five Paella Feast for lunch and were entertained by Spanish Flamenco Dancers. They also enjoyed stunning views of the vineyard, olive grove and neighbouring farms out to the Baw Baw Ranges.