Page 3 of 3
Nov 2016 - Mid Week Lunch Run
We had a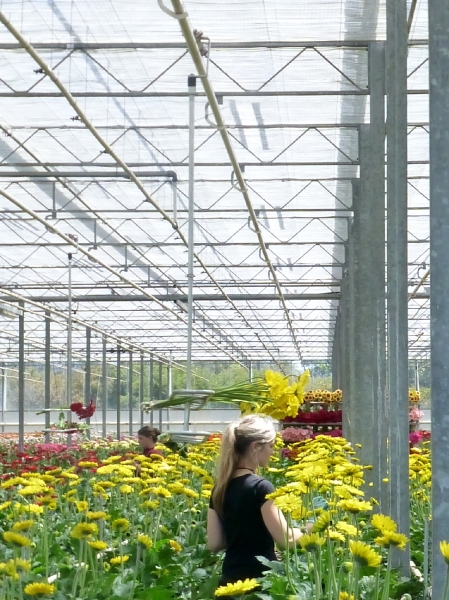 bsolutely beautiful weather, great company and lovely food on our trip to Healesville and Black Spur. Our mystery trip went first to the Big Bouquet Flower and Alpaca Farm for morning tea and a guided tour of the farm. What an amazing place! The gerbera hothouse was just enormous and must have had tens of thousands of flowers - a fantastic sight when you so may flowers under the one roof. Oh, and morning tea was pretty good too. Then we headed off through Healesville over the Dom Dom saddle to the Black Spur Inn for lunch. A lovely venue and the food was delicious. A great day was had by all.
Sept 2016 - Lunch at the China Bar, and The Kitchen Workshop
We were definitely spoilt in September with two opportunities to enjoy a smorgasbord lunch. On the 7th we had an Asian Buffet at the China Bar Restaurant, and on the 23rd we went to The Kitchen Workshop at Crown Casino for a fabulous smorgasbord lunch.
Both meals were great, and I especially enjoyed the roast beef at the Kitchen Workshop which just melted in the mouth. The desert choices were excellent too. Maureen D organised the meal at the Kitchen Workshop, at a fabulous price of only $7/head. Well done Maureen.
August 2016 High Tea at Zest Restaurant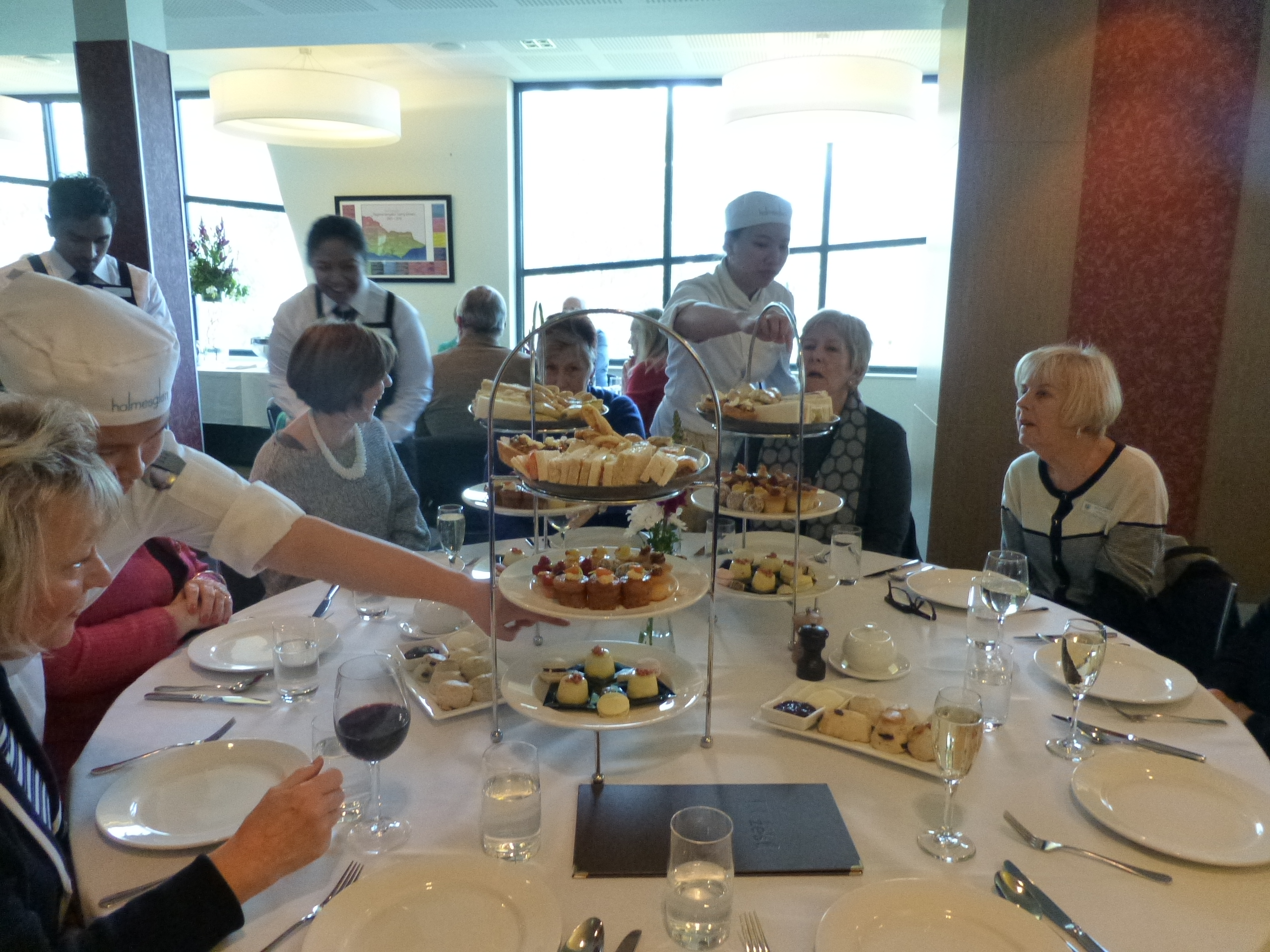 A large group of members enjoyed a huge variety of savoury and sweet treats at the high tea in the Zest Restaurant (part of Holmesglen TAFE). The students did a fabulous job, especially seeing this was the first high tea they had put on.
It was all so tempting, we just had to try one of each of the little morsels.
Toyota Factory Tour 28th June 2016
The Toyota Plant at Altona North is one of 7 in the world that manufacture Camry and Aurion models. This is the only integrated plant that manufactures all the major components including engine and body in the same plant. Sadly it will close down manufacturing operations in 2017, leaving 2500 employees looking for work. We were fortunate to have 17 members visit the plant to see how they operate and build cars with a very high level of quality. Most of us met for coffee and a bite to eat first at the Altona Gate shopping centre close by. At the plant we got kitted out with all the safety gear, and a group photo before the tour began. It is a huge plant and we walked more than 3 k's over the next 2 hours. It was fascinating and I think we all enjoyed it immensely.
Black Rock House Bus Trip 1st June 2016
A cold overcast day, but thankfully almost no wind. We bussed down to Mordialloc pier for our first stop and a walk along the pier. Or a ride on a penny farthing bike for some (well I tried). Then off to Black Rock House for morning tea and coffee, and a tour of the house. Interesting to see how the early Melbournians lived back in the 1870's. Then we were off to Milano's at Brighton for lunch, and the last stop was the chocolate out in Richmond. Apart from the cold morning, a very enjoyable day.
Mid Week Lunch Run 26 Apr 2016
A beautiful day out with morning tea and a tour of the sculptures at McClelland Gallery and Sculpture Park, Langwarrin. Then on to Tides Bar and Grill at Tooradin for lunch, followed by ice-creams at the Ice-cream shop on the inlet. I think everyone had a great day and most wanted to go back to McClelland's again to see the rest of the sculptures, the ones we saw were fascinating.
Walk and Picnic - Valley Reserve 16 Mar 2016
Jayco Caravan Factory Tour 3 March 2016
A truly fascinating morning touring the huge Jayco factory in Dandenong South for 14 of our members. Jayco have 100,000 sq metres of factory space in 6 enormous buildings spread over 50 acres. 1200 workers churn out a caravan, camper, or motorhome at the rate of one every 11 or 12 minutes, and build around 11,000 vans etc every year. What an operation, and its all Australian owned.