Welcome to the website of the Pinewood Combined Probus club Inc. The club was formed in April 2013 and was formally accredited by the Probus Centre South Pacific Inc. on 9th May 2013 and Incorporated on 14th January 2014. The Club operates under Club Constitution and By-Laws and has its own set of Operational & Management Guidelines.
PROBUS is a Rotary sponsored non-fundraising Association where active retirees join together in a non-political, non-sectarian International Club and within their own local club they meet regularly with opportunities to engage their minds, expand and share interests and enjoy each others' friendship. Our club aims to promote friendship and fun.
The Club holds formal meetings on the second Thursday of the month at the Mount Waverley Youth Centre, 45 Miller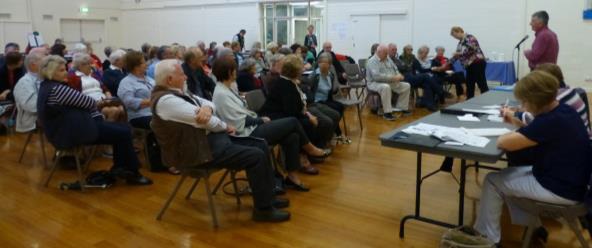 Street Mount Waverley and these 2 hour meetings provide an opportunity for fellowship and to host visiting Guest Speakers, who entertain our gatherings on a wide variety of interesting topics. The club also produces a comprehensive monthly Newsletter.
Many activities are organised each month, including:
Morning/Afternoon tea and Coffee
Happy Hours
Dining Out
Cinema
Walking Groups
Theatre/Concerts
Day Trips
A calender a current events is available in the Club Calendar, and prospective members may attend the Monthly Meetings as a guest.
The Club also has a monthly Newsletter which provides details of current activities and other Club news. Click here for a sample of our Newsletter.
Membership.
To become a member of Pinewood Combined Probus Club Inc you should be retired or semi-retired, live in the Monash Council area, and be able to attend at least 5 monthly meetings each year. The Club allows for a maximum membership of 90 and aims for a 60/40 ratio of female to male members which it actively maintains through its membership policy. Anyone wishing to become a member must fill out a Membership Application and send it to the Membership Officer, Lynda Rogasch for processing. Prospective members who fulfill the membership criteria may be placed on a waiting list if the club has a full quota of members at the time of application.